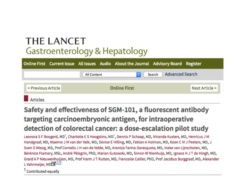 Dr. Alex Vahrmeijer's team in Leiden publishes first results of the clinical use of SGM-101.
Montpellier, France 31st Jan 2018 – SurgiMab is very proud to announce that Dr. Alex Vahrmeijer's team in Leiden University Medical Center (LUMC) published their clinical results in the Lancet Gastroenterology & Hepatology after using SGM-101 in patients undergoing surgery for colorectal cancer. The study demonstrates the safety of SGM-101 and shows it can influence clinical decision making during the surgical procedure for patients with colorectal cancer.
This publication illustrates an extremely important part of the work that has been done by SurgiMab to prepare the phase III clinical trial that is currently in preparation.
Click here to get to the abstract of the article.