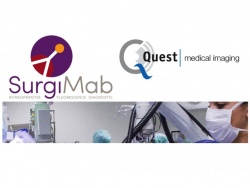 SurgiMab and Quest Medical Imaging enter a Collaboration Agreement for the 1st Phase III multicenter clinical trial on Fluorescence Guided Surgery for Digestive Cancers.
Montpellier, France and Mid­den­meer, Holland – 18 sept 2017 – SurgiMab and Quest Medical Imaging, a leader in the market for multispectral cameras, announced today that they have entered into a collaboration agreement for the upcoming Phase III clinical trial of Surgimab's SGM-101 in fluorescent guided colorectal cancer surgery.
Under the terms of the agreement, Quest Medical Imaging has received an undisclosed lump sum payment to provide 12 Spectrum™ platforms to the centers that will participate in the Phase III pivotal trial sponsored by SurgiMab. The Quest Spectrum™ Flu­o­res­cence Imag­ing Platform is designed and devel­oped for open and min­i­mally inva­sive flu­o­res­cence image-guided surgery with the capability for multiple wavelengths in a single system. It demonstrated high sensitivity and ease of use in a previous phase I/II clinical trial in conjunction with SGM-101. The preliminary results of this trial have been presented by the clinical teams at the World Molecular Imaging Congress that took place in Philadelphia in September ( http://www.wmis.org/2017-world-molecular-imaging-congress/ ).
Françoise Cailler, CEO of SurgiMab, said "We are looking forward to working with Quest for the pivotal trial of our lead compound SGM-101 Indeed, SGM-101's cancer targeting properties give it the potential to facilitate the detection and visualization of malignant tissue when used during image guided surgery. Our hope is that this real-time visualization of tumor tissue by surgeons will lead to higher rates of total resection and therefore significant benefits to patients. The use of a CE-marked / FDA approved device shall simplify the regulatory requirements and we are confident that the quality of the data that we will generate will help us accelerate the development of SGM-101 and ensure a quick access to the market.." …

Cliquer ici pour accéder au communiqué de presse.